Artist-astrologer Shere Chamness creates customized jewelry depicting your horoscope in semi-precious stones. Each necklace or bracelet is hand made and inspired by the place and time when you took your first breath.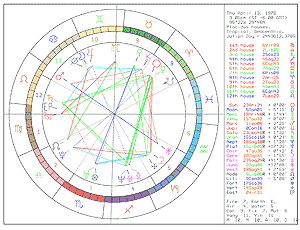 Each piece is a unique work of art reflecting overall patterns in a birth chart.
Only the most beautiful stones are selected, combined with high quality materials and jewelry findings to create a finely crafted product you will be proud to wear.
Your Cozmic Seeds necklace is more than just a simple piece of jewelry.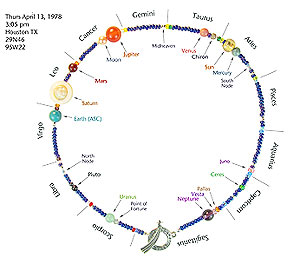 When the exact time and place are known for certain, the planet Earth is positioned on the Ascendent. With the clasp at the back of the neck, Earth should ride on the left shoulder. The Midheaven will be in the front of the necklace, sometimes a bit to the left or right, depending on the latitude at birth.
House cusps are marked by smaller beads, usually copper, silver, white or wood. Gemstone planets are placed side by side, in order of their positions, arranged with artistic license to create a lovely work of art.
If the time and place of birth are uncertain, the Sun is placed at the exact middle of the necklace, which causes it to fall in the front. The other planets are arranged accurately around the Sun according to the day of birth. Cusp markers occur at each 30 degree point from the Sun in this situation.
People who own Cozmic Seeds jewelry report feeling more powerful when wearing their necklaces. One says she puts on the necklace when she has to face difficult situations. I won't make any promises about empowerment, but the necklaces are a pleasure to wear and blend with almost any color scheme.
Please feel free to make suggestions or special requests. I welcome your ideas!
(PLEASE NOTE: THIS PURCHASE DOES NOT INCLUDE A HOROSCOPE INTERPRETATION.)